Welcome to Villa Oranje Pattaya
Ratana is the manager of hotel apartments Villa Oranje. You are very welcome in our cozy boutique hotel, in the middle of Pattaya. We think we can guarantee you the cosiest stay in Pattaya.
We have all you need. Spacious apartments, a bar, a pool, a large DVD collection and even a pool table. Come visit us and enjoy Pattaya!

See you soon !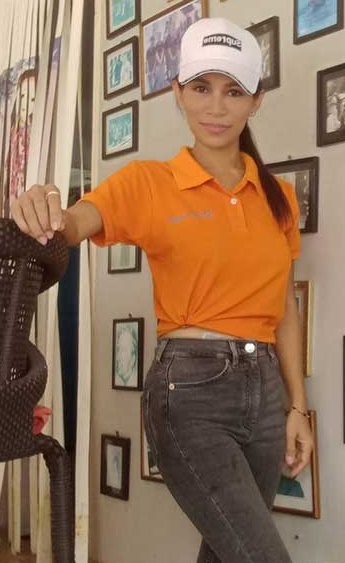 Rattana
A hotel in the center of Pattaya near the beach
Villa Oranje is a small hotel with 16 apartments, right in the middle of Pattaya not far from the beach. Our complex is safe, it has its own closed entrance and a small tropical garden where you can sit in the shade (or sun). We speak English Dutch, French, Thai, and German.
Oranje means "Orange" in Dutch. That's where the name comes from. This hotel was founded by Dutch people. Nowadays we have visitors from all over the world, but the Dutch "gezelligheid" or "cozyness" is still here!
---
A hotel with a private pool
Our hotel has a private swimming pool, available all day and evening free of charge, it is only available for guests, so it will never be too busy.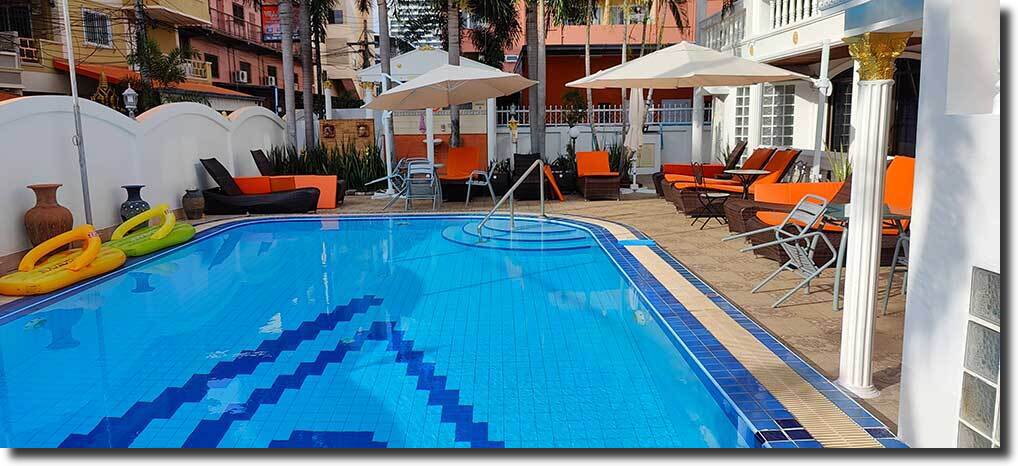 ---
A hotel with positive guest reviews
We do everything to give you a perfect holiday experience. It pays off, we have very good reviews online (and offline) on all major platforms. So don't worry, we'll make sure you have a fantastic experience here in Pattaya.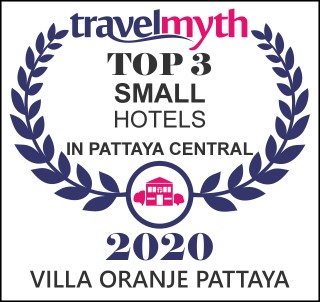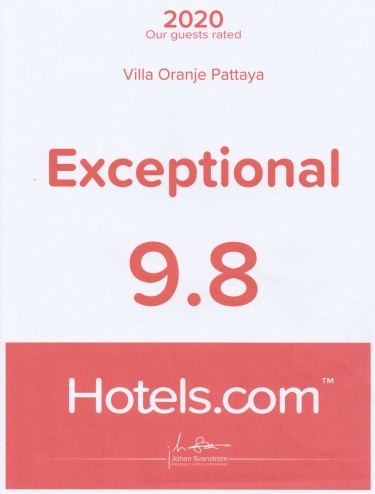 ---
Our facilities and services
We have a cozy bar with European and Thai food and of course Ice cold beers.
Yes, if you like you can be your own DJ at our little bar.
We clean your apartment every day!
Fast WiFi everywhere on our property, both indoors and outdoors.
A pool table, free to use.
A large DVD collection for you available free of charge.
Transfer to and from the airport in Bangkok (or any other place in Thailand). Ask us for details and prices.
Laundry service (on request).
International television in bar and room.
You can also rent a car or scooter from us if available.
A lovely breakfast, including an English breakfast.
Looking for a service not in this list? Ask us, we are flexible and we can arrange a lot.
Visit our bar & restaurant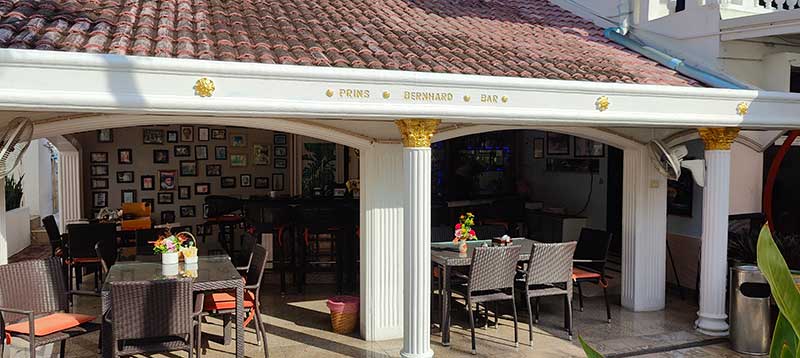 Visit our bar, directly connected to the Villa. We have European and Thai food at very affordable prices. We serve breakfast all day as well. Checkout our menu.
---
Available rooms
We have 16 apartments in different sizes. All of our apartments have a bath/shower/toilet, air conditioning, a small fridge a TV and a safe deposit box. You can check the details of every room here. It doesn't matter which room you book, all include our great personal service and daily cleaning.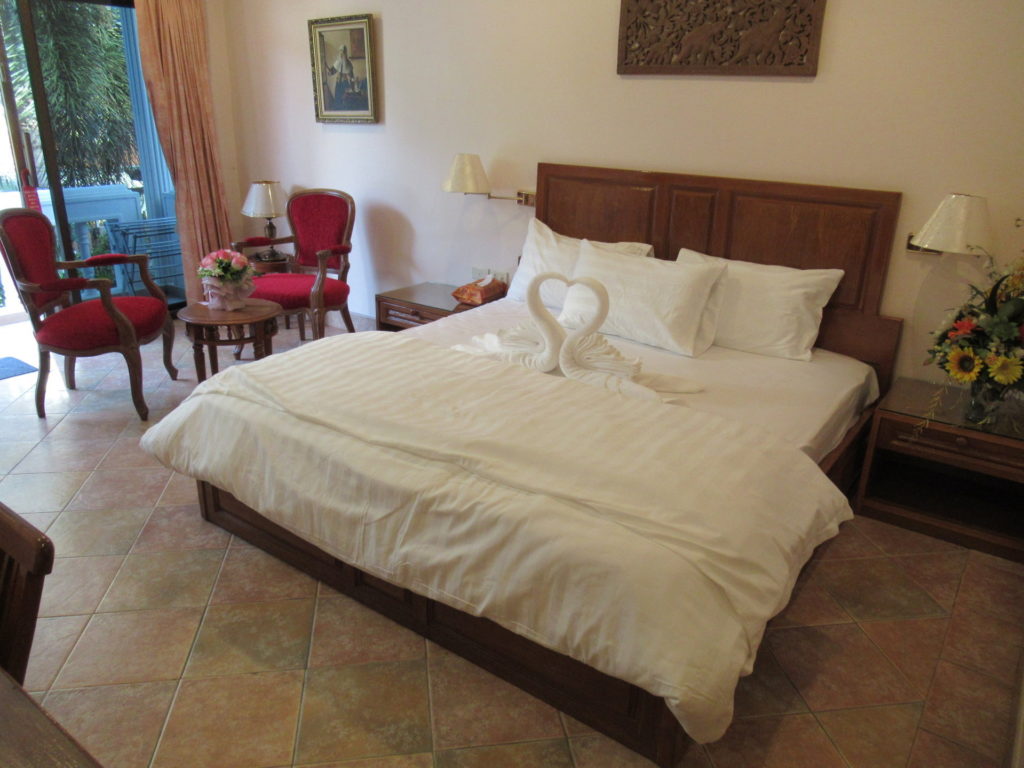 ---
The location of Villa Oranje in Pattaya
The villa is located in a small side street, right in the middle of Pattaya! Everything you need is close by. A 5 minute walk is all you need. The good thing is that our villa is located in a very quiet area, you won't have any trouble falling asleep, yet all action is at just 5-10 minutes walk away.
Pattaya beach is just a 10 minute walk.
There are a million 7/11 convenience stores in Thailand, so also close to our hotel there are two branches of them. Welcome!
At about 5 minutes from our hotel, you will find the famous "soi bukhao" and several (nearly as famous) side streets, such as soi boomerang and soi LK Metro. All within walking distance you will find hundreds of bars, restaurants and food stalls.
Fancy shopping? The Pattaya night market is also within walking distance as is the large air conditioned central Pattaya shopping mall at beach road.
A large supermarket can be found also within 5 minutes walk of our hotel.
If you like (bounty) islands, Pattaya has a few Islands that can be accessed via the Pier or the beach. Koh Larn for example. It is a beautiful island with stunning views. It takes a bit longer from our hotel to get there as you need to transfer to a boat, but you can easily reach the islands from our hotel (depending on the island and boat) within 1 to 1.5 hours).
---
Three ways to book a room at Villa Oranje:
Did we make you enthusiastic? We hope so. Come visit us in Pattaya. If you stay short term or long term, we have a room for you!
You can book an apartment with us in a few ways:

1. Via our website (prefered)
Book a room via our website. No credit card needed and also no prepayment needed. Free cancellation. Just follow our booking process.
Currently we have a special offer. All our rooms are 990 baht per night only! Book now to enjoy this special price. Only available if you book directly via our website:
Or…
2. Via the well known booking platforms
Use your preferred platform, Booking.com or Expedia.
Or…
3. Via Whatsapp or E-mail
Just send us an email and we will check availability for you right away. It's that easy!

Our promotions are of course also valid if you make your reservation via telephone, LINE or Whatsapp: +66 989 458 445 (Rattana speaks Thai and English so please correspond in one of these languages).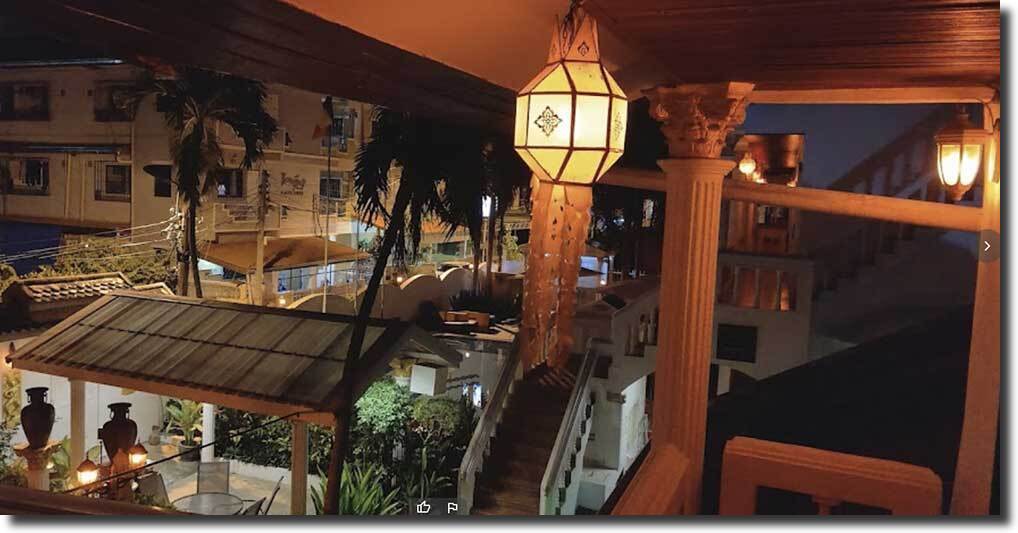 ---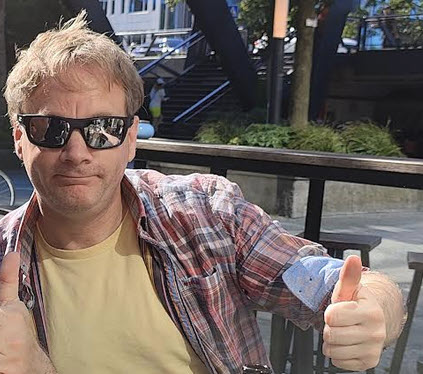 "A great stay in Pattaya close to all the action, yet tucked away in a quiet side street. Nice comfy bar with visitors from all over the world! Great place to make new friends and enjoy Pattaya.
---
Why choose hotel apartment villa oranje?
•We are at an excellent location. Close to all action, but in a quiet and safe street.
•Our Dutch themed hotel, that welcomes guests from all over the world is how the Dutch say "gezellig", cosy to stay at.
•We really do the extra mile for our guests. We are limited to 16 apartments, we have the time to give you a great experience and personal touch!
•We offer long term and short term stays. If you wan to rent an apartment for a month or longer, that is also possible. Ask us for a long term stay discount.
•We are a place where you make new friends.
•We have a private swimming pool for you to enjoy! It's never busy in our pool.
•We help you with everything you need during your stay. We are available 24/7 via WhatsApp or Line.
---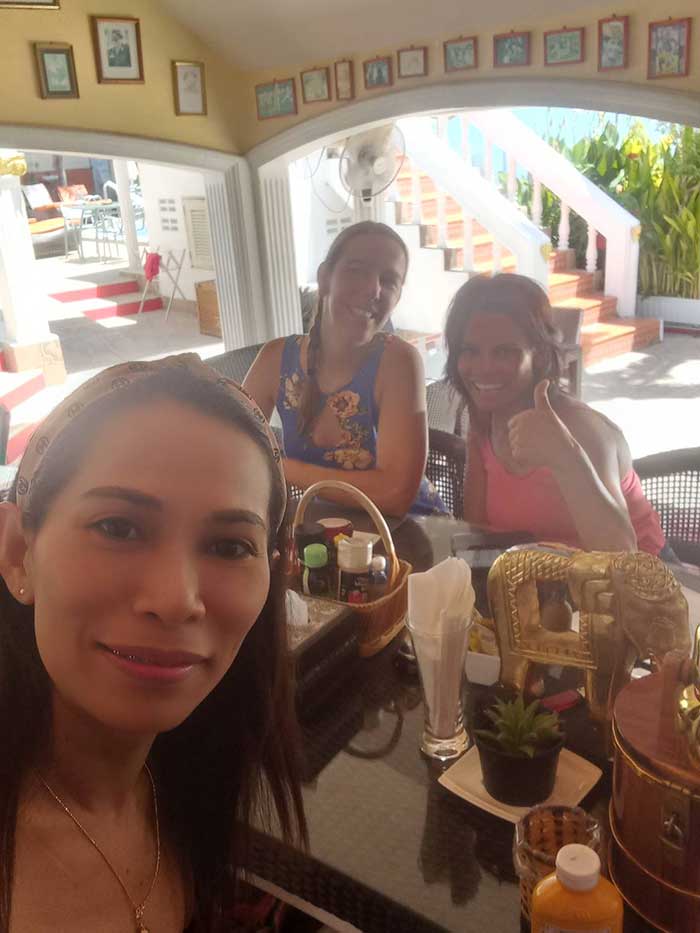 Frequently asked questions
Is Pattaya safe?
Pattaya is a safe destination. Of course, you should always pay attention, as you should in any country and destination. Just consider Pattaya as a big city, like Bangkok. With over 4 million tourists coming to Pattaya every year, there is always something happening. But with so many tourists, there is also plenty of tourist police available.
One tip: even if you are very drunk, don't go with unknown people to places you don't know. If you take someone home for the night, take him/her to a place you know.

Thailand is a lot safer than most destinations in South America. You can safely walk around here, even if you are alone and also in the evening, just use common sense.

Villa Oranje has a wall around the entire complex. We close the gate in the evening. Of course you can always get in with your own key. You will feel extra safe with us.
How far is Pattaya from Bangkok?
Our hotel is approximately 120km from Suvernabhumi airport and can be reached in a convenient 1.5 hours by taxi via highways. From Bangkok city center (Silom or Sukhumvit) the distance is more or less 150km. Taxi rides are between 1000 and 1500 baht. We are happy to arrange a taxi for you at a fixed price. Just ask us.
Are you on a budget or more adventurous, then there are also many busses that go to Pattaya, both from the airport and Bangkok bus station. Expect to pay around 120-150 baht.
Do you have a Pattaya Bangkok package?
It is very well possible to combine Pattaya with Bangkok. With less then 2 hours distance it is possible to go to Bangkok in the morning and return to Pattaya in the evening. We are happy to help you book a bus ticket or arrange a taxi transfer for you.
If you want to stay a few days in Pattaya and a few days in Bangkok, ask us, we can make you a great itinerary with a stay in our Villa in Pattaya and one of our prefered hotels in Bangkok. Just ask us.
What is Soi Bukhao?
Soi Bukhao is one of the famous attractions of Pattaya. It is a road from approximately 1.7 kilometres long and there are hundreds of bars, restaurants and street food stands to be found there. Baht buses frequently very frequently drive the 1.7 kilometres so it is easy to get around. Due to fierce competition it is also one of the cheapest places in Pattaya to get a beer or a meal. Everything you need is available in this street. The good thing is, it is only a 5 minute walk from our hotel.
Soi bukhao also has several side streets that are similar but have it's own style, like soi LK metro, soi boomerang (yes, it is a street in the shape of a boomerang) and soy honey (famous for it's massage parlors)
Since walking street has been (partly) closed due to reconstruction, soi bukhao has gotten even more popular.
Which nationalities visit Villa Oranje?
Villa Oranje is an international hotel. It was founded by a Dutch person, who wanted to bring the Dutch "gezelligheid" meaning something like "cosiness", to Pattaya. That's why many of the decorations and visitors at the hotel are still Dutch. Having said that, Villa Oranje now has evolved to a very international place visited by many nationalities. We speak German, English, French, Dutch and Thai. Welcome to our hotel!
---
Do you need more information?
Just ask us, we are happy to answer all your questions